Chrissy Teigen is the queen of Twitter, but she recently revealed that time may be dismantling here queendom. Even Teigen has her vulnerabilities. Horrible, but true. Teigen is aging! I mean, she looks exactly the same, of course. It's something much worse that's getting faded and worn out: her cool.
Teigen exposed her lack of hipness with just one tweet. It's agonizing to admit it, but we've all been in Teigen's place at some point. There's some aspect to technology you just don't understand, or maybe an entire app. I know I'm too old to ever understand why there are so many home pages on Snapchat. Are they home pages? Why are there so many?! I don't get it! Because I'm not a teen, and neither is Teigen.
Apparently, Teigen has been struggling to figure out an aspect of tweeting that you'd think she'd have mastered by now, considering how prolific she is. She wanted to know how to make line breaks between sentences in a tweet, and figured out how as her followers watched:
How do you do fellow kids – question: how do you make line breaks between sentences on a tweet?

Test

— christine teigen (@chrissyteigen) August 12, 2018
It worked:
oh my god. my world has changed

— christine teigen (@chrissyteigen) August 12, 2018
Chrissy, no! This tweet is embarrassing on so many levels. Not only did she not know how to use the keyboard on her phone, she could have just Googled the answer. Asking everyone on social media about a basic function of your life is such an Old Person mistake.
If you also didn't know, however, the return key is hidden with your numbers and will created a space in between sentences. Someone even made a little video explainer for Teigen, though she'd figured it out:
You do it like this

See that? pic.twitter.com/RTSqAlbx7Y

— Del 😋🥞🍽 (@delwilliams) August 12, 2018
I'm sure Chrissy Teigen really appreciates that, brah.
The rest of us appreciate Chrissy Teigen, because getting confused by technology is incredibly relatable. And she even included the quote, "How do you do, fellow kids?" which is something I say every time I walk into the club.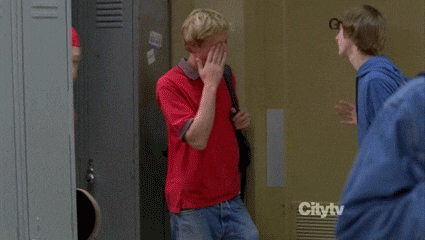 Everyone finds it endearing:
Ok. Idk when I became an old person, but I didn't know how to do this.

Thank you @chrissyteigen https://t.co/OvFUiEjAOn

— John Eric Pyatt (@johneric88) August 13, 2018
Though there are some who feel Teigen's tweet is a grim glimpse into the future:
I never want to be old https://t.co/NKWlWIAEUR

— ً (@gomezquality) August 13, 2018
The bad news is that it happens to everyone who manages to live a long life. The good news is that your long life with include more of Chrissy Teigen's tweets—with line breaks.